Immagine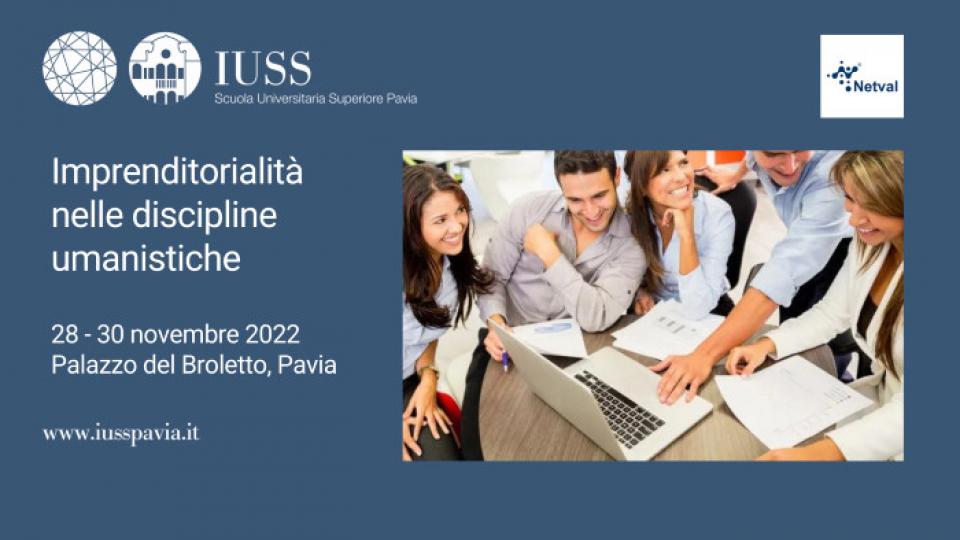 Seasonal School: Entrepreneurship in Human Sciences | November 28th - 30th, 2022 |   Applications are open until November 21st
Paragrafo
Testo
SEASONAL SCHOOL
ENTREPRENEURSHIP IN HUMAN SCIENCES
November 28th - 30th, 2022
IUSS University School of Advanced Studies, Pavia
Palazzo del Broletto, Pavia
Applications are now open for the free course aimed at doctoral students
enrolled in the six Italian University Schools of Advanced Studies.
Registration open until November 21st, 2022
Applications are open until November 21st to participate in the seasonal school "Entrepreneurship in Human sciences," promoted by the IUSS University School of Advanced Studies as part of the project "Le Scuole Superiori ad Ordinamento Speciale: istituzioni a servizio del Paese," which involves the six Italian University Schools of Advanced Studies (IUSS of Pavia, Superiore Sant'Anna of Pisa, Normale Superiore of Pisa, IMT Alti Studi Lucca, Gran Sasso Science Institute of L'Aquila and SISSA of Trieste).
The course, which is free of charge, will take place in Pavia from November 28th to 30th, 2022, in italian language. The main purpose of the course is to bring awareness and value to research through the human sciences.
Ph.D. students enrolled in one of the six italian University Schools of Advanced Studies can apply by sending their curriculum vitae and a motivational letter to kto@iusspavia.it. Five places for each school are available, for a total of thirty places.
The course consists of lessons about the discipline of intellectual property, spin-off and start-up companies, round table discussions for the presentation of experiences and methodologies; and group work aimed to apply acquired tools.
Through training meetings on specific topics, accounts of successful entrepreneurial experiences, and group work, an attempt will be made to open the eyes of doctoral students - by their nature devoted to research - to the enormous entrepreneurial possibilities of exploiting the results of research in the humanities.