Immagine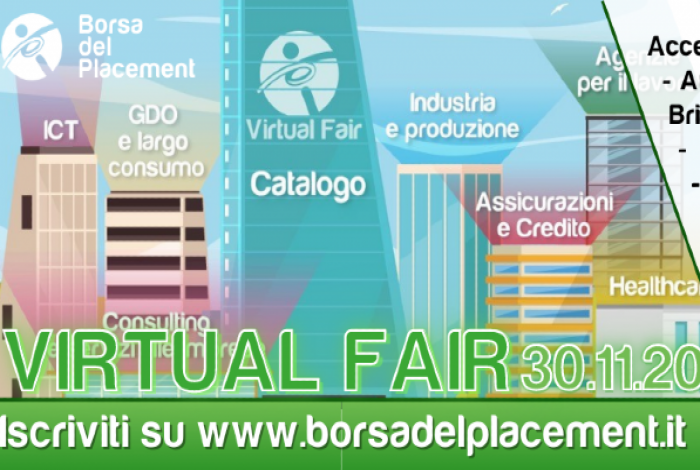 Virtual Fair XXI Edizione | Career day on line della Borsa del Placement
Esposizione data
30 Novembre 2020
Paragrafo
Testo
The Virtual Fair - the online career day of the Placement Exchange conceived 11 years ago - will be held on November 30 on the portal www.borsadelplacement.it and will see the participation of over 40 large companies including: Alleanza Assicurazioni, Automobili Lamborghini, Bristol Myers Squibb, Ferrero, IBM, glaxosmithkline, Lavazza, P&G, WindTre, Banca Sella, Spindox, Engie, Banca Etica, Accenture. 
From November 16, companies will be able to define the criteria of interest and schedule the talks on the agenda with candidates they consider more in line.
At the same time, participants can view the companies interested in the profile and from November 23 propose themselves for an interview, which can be confirmed and scheduled in the agenda by the recruiters.
On the day of the event you can conduct the interviews at the scheduled times and deliver the CV to the realities with which you want to get in touch.  For the past 11 years, Virtual Fair has allowed young people looking for their first work experience to interview from home with large companies operating in Italy and abroad. 
Are you a graduate or a recent graduate?
We recommend that you register by November 15 to be visible immediately to companies. Register now on www.borsadelplacement.it
Once logged in you can go to the Virtual Fair 2020 event and click on the "sign up" button.
For any request or question write to: info@borsadelplacement.it