Immagine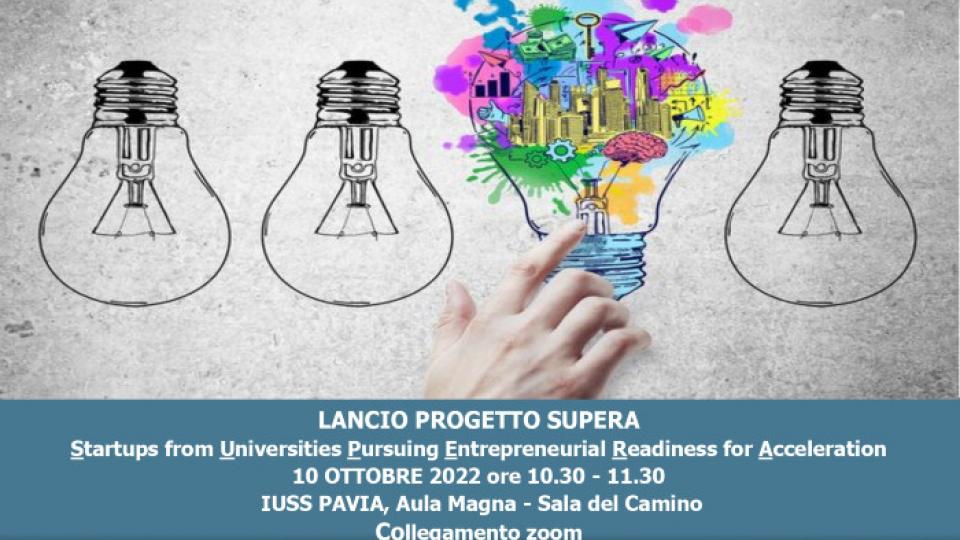 LANCIO PROGETTO SUPERA - Startups from Universities Pursuing Entrepreneurial Readiness for Acceleration
Paragrafo
Testo
SUPERA - Startups from Universities Pursuing Entrepreneurial Readiness for Acceleration - is the new initiative dedicated to the identification, selection and training of promising startups and teams that will have easier access to the wide range of network and applications promoted by Cariplo Factory at Milano Innovation District (MIND). The call is an initiative of the SUPERA consortium, formed by three key stakeholders: Scuola Universitaria Superiore IUSS and Università degli Studi di Bergamo with the support of MITO Technology, a technology partner experienced in technology transfer activities and proof-of-concept and venture capital financing.

SPEAKERS
RICCARDO PIETRABISSA,  Rector of the University School for Advanced Studies IUSS Pavia
GIUSEPPE CONTI,  General Director - University School for Advanced Studies IUSS Pavia
FRANCESCO DE MICHELIS, Chief Executive Officer - MITO Technology
TOMMASO MINOLA, Director of CYFE (Center for Young and Family Enterprise) - University of Bergamo

The 'event will be held in mixed mode and will be aimed at all start-ups that are newly established or are in the process of being established. We are pleased to extend the invitation to all researchers, fellows and doctoral students from special-order colleges of higher education.

Registration is required.
To participate in presence send an email to terzamissione@iusspavia.it by October 6th, 2022.

To participate by remote access the following ZOOM link: https://iusspavia.zoom.us/webinar/register/WN_MNhS5sqzR0mexN1ZlVCeZw
Interested applicants are invited to apply through the dedicated PoC portal https://application.progressttfund.it/en to provide the necessary information to evaluate the opportunity and design, together with MITO Technology and the University of Bergamo, a technology validation plan.
The call for applications will be open until Dec. 31, 2022.