Immagine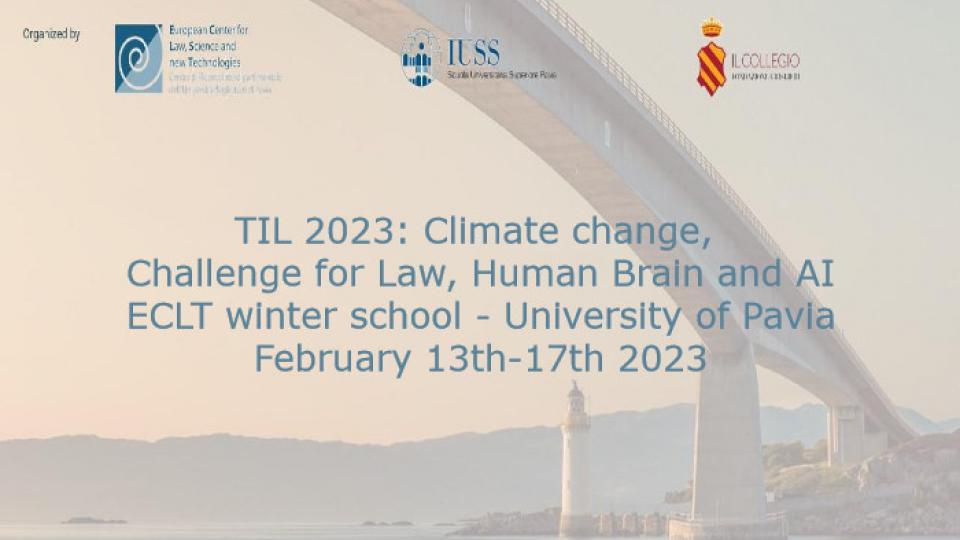 Technological Innovation and Law (TIL) 2023 winter school's final day at IUSS | february 17th 2023
Paragrafo
Testo
Entro 8 FEBBRAIO - Call for Application - Technological Innovation and Law (TIL) 2023 - Climate Change Challange for Law, Human Brain and AI
Il Centro di Ricerca Interdipartimentale dell'Università di Pavia European Centre for Law, Science and New Technologies (ECLT), in collaborazione con l'Istituto Universitario di Studi Superiori (IUSS) di Pavia, il Collegio Ghislieri di Pavia ed ELSA Pavia, organizza per il sesto anno consecutivo il corso "Technological Innovation and Law (TIL) 2023", sul tema "Climate Change Challange for Law, Human Brain and AI".
Topics:
Climate change affects many aspects of human life: its impacts on agriculture, livestock raising, health, safety, housing and work are undeniable, with serious challenges for individual lives and social interactions at both local and global levels. The current scenario is so complex that an interdisciplinary and international effort to address its ramifications is strongly warranted. Young people have a chance in their hands: regardless of their educational background and country of origin, youth generations can develop a new mindset to deal with the challenges of climate change and to cooperate in order to identify shared solutions.
New technologies and AI tools are crucial for meeting these goals, as is their knowledge by the legal community. Artificial intelligence and machine learning systems, big data analytics, blockchain, computable contracts, have opened new legal scenarios and are posing profound theoretical challenges.
This intensive course is organized by the Interdepartmental Research Center European Center for Law Science and New Technologies (ECLT), in cooperation with the University School for Advanced Studies (IUSS Pavia) and the Collegio Ghislieri Pavia.
 
Directors:
Prof. Amedeo Santosuosso (ECLT and IUSS Pavia), prof. Carlo Granelli (Academy of European Private Lawyers), prof. Gabriella Bottini (Department of Brain and Behavioral Sciences, DBBS).
 
Deadline for registration (EXTENDED DEADLINE) *:
The call will be open until all available positions are taken (25 positions).
Please note that we will not accept applications after January 27th 2023.
* THE DEADLINE HAS BEEN OFFICIALLY POSTPONED TO FEBRUARY 8TH 2023.
Dates and place:
The intensive course Climate Change Challenge for Law, Human Brain and AI (TIL 2023) will take place at the Collegio Ghislieri (Piazza Ghislieri, 5) in Pavia IT from February 13th to 17th 2023.
80% attendance is mandatory.
 
Links & Attachments:

Further information and registration:
eclt.pavia@unipv.it