Immagine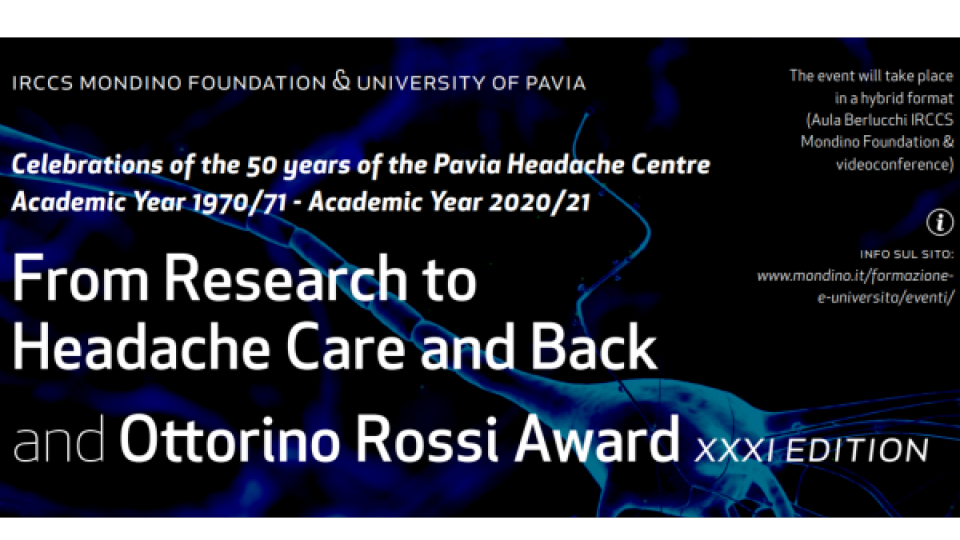 L'Ottorino Rossi Award 2021 della Fondazione Mondino alla prof.ssa Rigmor H. Jensen
Paragrafo
Testo
La cerimonia per il conferimento del XXXI Ottorino Rossi Award si terrà in occasione delle celebrazioni del 50° anniversario dall'istituzione del Centro Cefalee di Pavia (1971/2021) e del convegno "From Research to Headache Care and Back" che si svolgerà in videoconferenza nei giorni 1 e 2 ottobre prossimo.
Il tradizionale e prestigioso premio Ottorino Rossi Award, giunto alla sua 31° edizione, verrà conferito alla prof.ssa Rigmor H. Jensen (University of Copenhagen) studiosa di fama internazionale nella ricerca e cura delle cefalee (venerdì 1 ottobre, ore 14.30).
L'evento sarà l'occasione per celebrare i 50 anni del Centro Cefalee con i ricercatori che, insieme alla scuola pavese, hanno contribuito alla crescita della scienza e della medicina delle Cefalee nonché per discutere gli sviluppi futuri con i giovani ricercatori della Fondazione Mondino e del Dipartimento di Scienze del Sistema Nervoso e del Comportamento dell'Università di Pavia.
Per maggiori informazioni: https://www.mondino.it/xxxi-ottorino-rossi-award/