Immagine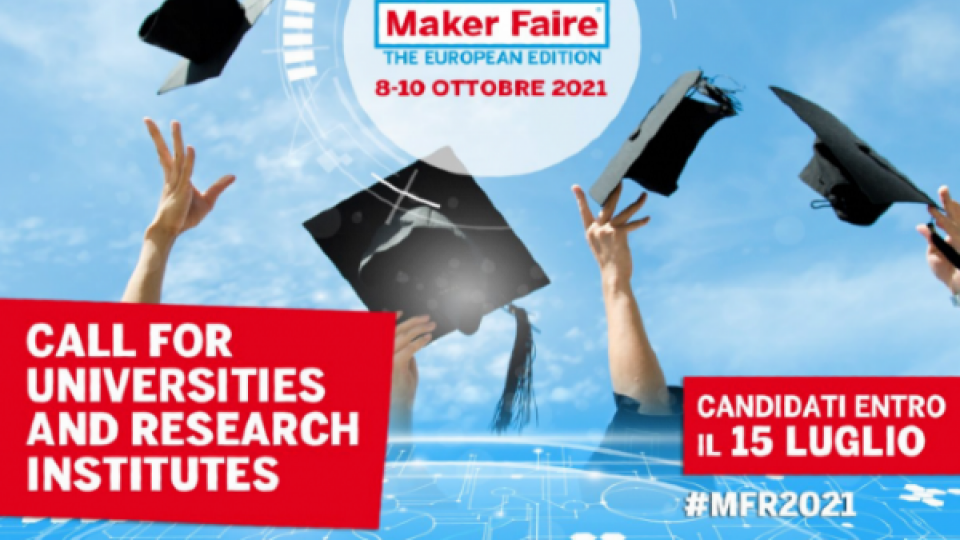 Maker Faire Rome 2021 | Call prorogata al 22 luglio
Paragrafo
Testo
"Maker Faire Rome 2021 – The European Edition" (https://makerfairerome.eu/it).
L'evento - promosso dalla Camera di Commercio di Roma e organizzato dalla sua Azienda speciale Innova Camera – giunto alla nona edizione si terrà dall'8 al 10 ottobre e affronterà tutte le componenti chiave dell'innovazione: dalla manifattura digitale all'Internet of Things, dalla robotica all'intelligenza artificiale, dall'economia circolare all'agritech, passando per il biohacking e l'aerospazio. Il tutto favorendo lo sviluppo della cultura dell'innovazione nel tessuto imprenditoriale e l'avvicinamento dei giovani agli scenari lavorativi di domani.
The Maker Faire European Edition è il più grande evento europeo sull'innovazione con una formula ibrida: una parte di attività si svolgerà in presenza, nel rispetto delle normative e delle misure di sicurezza in vigore al momento della realizzazione, e una parte in formato digitale, multicanale e virtuale.
Attraverso la "Call for Universities and Research Institutes 2021", Maker Faire Rome intende dare risalto ai migliori progetti in campo tecnologico e innovativo realizzati dalle Università statali e dagli Istituti di ricerca pubblici, italiani e stranieri. Ii progetti selezionati potranno disporre di uno spazio (fisico o virtuale) interamente gratuito all'interno di #MFR2021.
Le candidature dovranno essere presentate on line fino al 22 luglio 2021 al link: https://makers.makerfairerome.eu/ita/login?from=%2Fita.
Quattro le possibili modalità di partecipazione:
esposizione del progetto;
realizzazione di talk con presentazioni su argomenti attinenti ai temi della manifestazione;
realizzazione di workshop con dimostrazioni di attività pratiche su argomenti attinenti ai temi della manifestazione
esibizioni in pubblico con performance creative, tecnologiche, robotiche o musicali. Le esibizioni potranno svolgersi anche in forma di webinar. 
Per ulteriori dettagli consultare il link: https://makerfairerome.eu/it/call-for-universities-research-institutes.