Immagine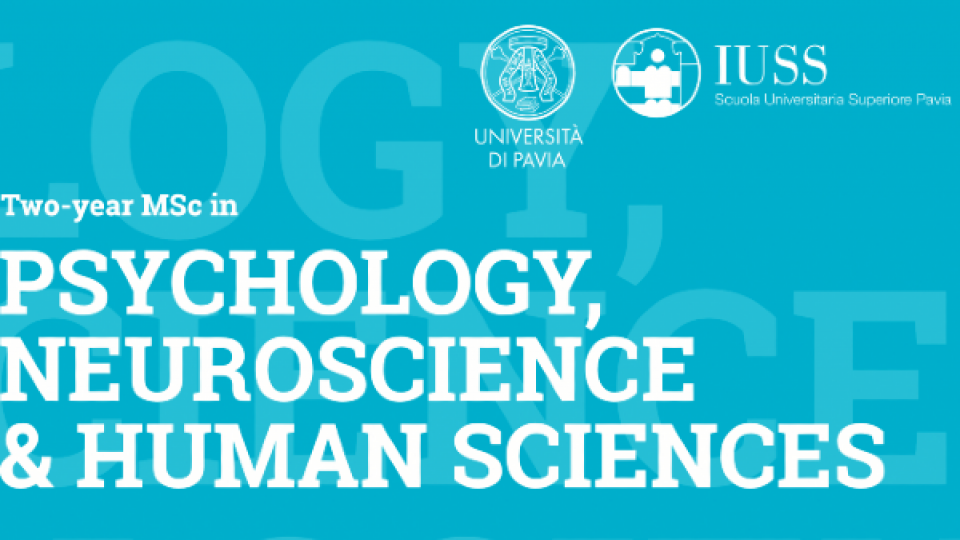 Laurea Magistrale in Psychology, Neuroscience and Human Sciences | GRADUATION SESSION 23 marzo 2021
Paragrafo
Testo
Il 23 marzo 2021 a partire dalle ore 9:30 si terrà in via telematica la seduta di laurea magistrale per il corso di studi in Psychology, Neuroscience and Human Sciences, corso interateneo congiunto organizzato dalla Classe di Scienze Umane e della Vita della Scuola Universitaria Superiore IUSS e dal Dipartimento di Scienze del Sistema Nervoso e del Comportamento dell'Università degli Studi di Pavia. 
Il corso Psychology, Neuroscience and Human Sciences offre formazione e insegnamento di alto livello, specificamente focalizzato sull'interazione tra psicologia, neuroscienza e scienze umane e sociali che sono collegate all'indagine sul cervello e sul comportamento umano.
Per gli spettatori sarà possibile seguire la seduta tramite streaming Youtube.
MSc Psychology, Neuroscience and Human Sciences
GRADUATION SESSION 
MARCH 23rd 2021 - 9:30 am
Evaluation Commitee
Bambini Valentina (Chairman) 
Bottini Gabriella
Canal Paolo
Carone Nicola
Ferrari Chiara
Gandola Martina
Lecce Serena
Vecchi Tomaso
Candidate 
Alves Barros Brenda
Caldi Christian Carlo
Eşki Kerime Eylul
Fiorentino Luca
Francis Pradeep
Kobozoeva Oxana
Pushkareva Nataliia
Tosi Eleonora
Supervisor 
Ferrari Chiara 
Vecchi Tomaso 
Bambini Valentina
Bambini Valentina
Vecchi Tomaso
Bambini Valentina
Gandola Martina
Bambini Valentina
Co-supervisor
Vecchi Tomaso
Pozzoli Stefano
Bischetti Luca
Bischetti Luca
Ferrari Chiara
Bischetti Luca
Bottini Gabriella
Canal Paolo