Immagine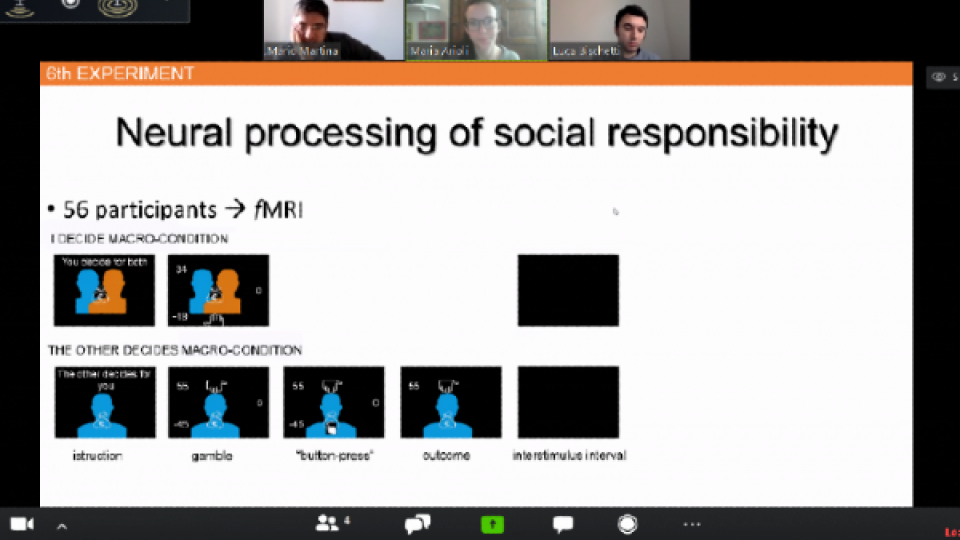 Esame finale Dottorato in Neuroscienze Cognitive e Filosofia della Mente
Paragrafo
Testo
Giovedì 2 aprile, a partire dalle ore 10:00, in modalità a distanza, si terrà la discussione pubblica delle tesi del 32° ciclo del Dottorato di Ricerca in Neuroscienze Cognitive e Filosofia della Mente.
Maria Arioli "Functional neuroimaging evidence on the neural bases of social interaction: from perception to representation and action"

Alberto Barbieri "The "ME" that is in consciousness. A metaphysical investigation into the problem of for-me-ness"

Luca Bischetti "Humor and theory of mind: is the comprehension of different types of jokes influenced by mentalizing skills?"
Maggiori dettagli nella locandina allegata.
Gli interessati potranno assistere alla seduta pubblica tramite il link dedicato all'evento: https://iusspavia.zoom.us/j/135093046
***
On April 2nd, starting 10:00 am, will take place on remote mode the Doctoral Final Exams for the PhD programme in Cognitive Neuroscience and Philosophy of Mind.
Interested people can join the public session through the link of the event: https://iusspavia.zoom.us/j/135093046
Further information can be found in the enclosed announcement.