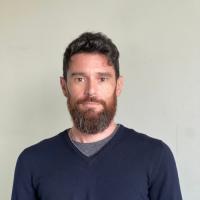 Scientific Discipline:
Bioingegneria elettronica e informatica
Biography
Andrea Spanu graduated magna cum laude at University of Genova in 2011 discussing the thesis titled "Design and fabrication of an organic FET-based sensor for electrophysiological applications". He joined the Neurosciences and Brain Technologies (NBT) group in January 2012 as a Ph.D. student at the Department of Informatics, Bioengineering, Robotics, System Engineering at University of Genova, where he obtained the PhD in Bioengineering in 2015 discussing the thesis titled "Organic transistor devices for in vitro electrophysiological applications" (which has been published in the Springer Thesis series). He joined the Advanced Electronic Devices lab at the Department of Electrical and Electronic Engineering (University of Cagliari) as a post doc in the same year. Between 2016 and 2017 he spent two 5-months periods as a visiting scientist at the IBM Almaden research center (San Jose, California) where he worked on two projects: one related to the development of a high-density organic transistor array for electrophysiological applications and the other one related to the set up of a clean room process for the fabrication of a novel device for the monitoring of 3D in vitro neuronal cultures electrical activity and brain-on-a-dish applications. In 2018 he joined the Microsystems Technology group at Bruno Kessler Foundation (Trento, Italy) where he held a CARITRO grant for young researchers working on a project titled "Innovative organic electronic devices and 3D microelectrodes for brain-in-a-dish applications". In 2019 he obtained a research position (RTDA) at the Department of Electrical and Electronic Engineering at University of Cagliari, where he kept developing his skills in different technological areas, such as epidermal electronics for biomedical applications, textile electronics and novel high-performing organic transistor structures for high-frequency applications. In October 2022 he joined the Istituto Universitario di Studi Superiori (IUSS), Pavia, as an assistant professor (RTDB). Since 2019 he teaches Biosensors (Biomedical Engineering course at University of Cagliari), and, since 2022, Biomedical Sensors (PhD course at Hadron Academy, IUSS). He holds a patent and he is author of more than 20 papers on international journals and conferences. His main research interests are focused on organic sensors and biosensors for biomedical applications, organic bioelectronics, epidermal and textile electronics, and innovative devices for neuroengineering, electrophysiology and cellular biology. 
Teaching
Sensoristica Biomedicale

Corso di Studi: PHD PROGRAMME THE HADRON ACADEMY: RISK AND COMPLEXITY IN HIGH TECH MEDICAL INNOVATION