IUSS SUMMER CAMP 2023. Le coordinate per il tuo futuro
Immagine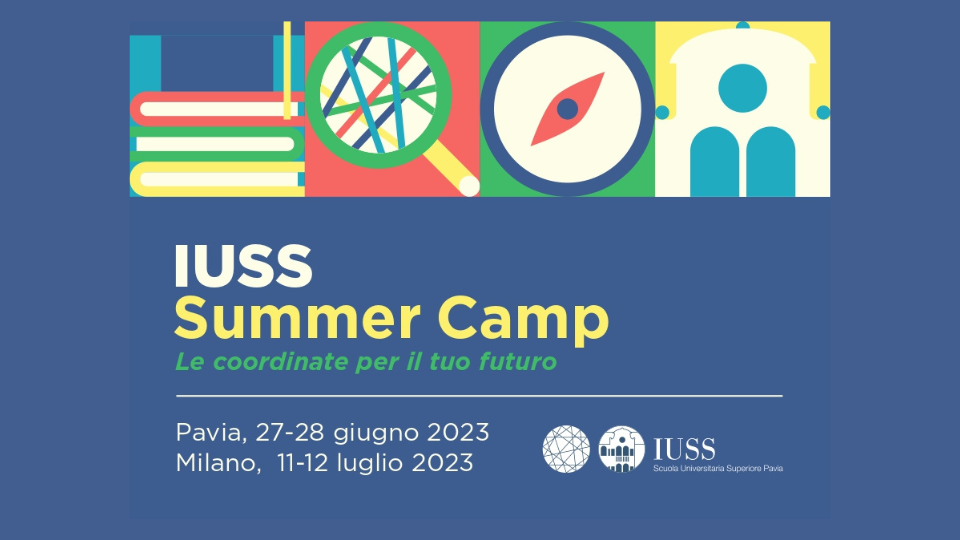 Testo
The University School of Advanced Studies, as part of its Ordinary Courses, has set the first edition of the IUSS SUMMER CAMP: orientation courses aimed at bright and motivated students in the third, fourth and fifth year of secondary schools. The IUSS Summer Camp 2023 includes two courses, lasting 15 hours each, focused on the enhancement of individual potential and critical approach to educational and research topics.
Ordinary Courses are advanced university training courses organized by thematic cycles, offered completely free of charge that take place concurrently with the chosen undergraduate course of study at the University of Pavia or the University of Milan (La Statale) and enrich the curricula of bachelor's and master's degree and single-cycle master's degree programs.

Through the presentation of a wide program of educational programs characterized by the interaction between disciplines, languages, people and worlds of the academic reality, students and undergraduates participating in IUSS Summer Camp have the opportunity to take part in lectures, seminars and orientation workshops aimed at making the best choice about the future of their studies.
PARTICIPANTS
Curious and motivated students enrolled in the third, fourth and fifth year of secondary schools a.s. 2022/2023.
COURSES
There are 140 places available, divided between two courses:
27-28 June in Pavia - 15 hours (6+6 hours in presence + 3 online on 11 July in the morning)
11-12 July in Milan - 15 hours (6+6 hours in presence + 3 online on 27 June in the morning)

Participation in the courses by under-age students will be possible only with the formal authorisation of parents. 
IUSS Summer Camp is totally free.
APPLY 
You have to apply exclusively through the on-line application procedure which is available here. 
Personal data
Contact details
School of affiliation
Name, Surname of the School contact person
Course(s) chosen
Each student must indicate their availability for at least one of the courses.
These indications will be taken into consideration subject to the overall number of applications received and the organisational requirements of the courses.
Applications are accepted subject to availability.
DEADLINE 
In order to participate, you must register your application by June 15th.
REGISTRATION
Students will receive an invitation letter with all the information required at the email address registered.