Immagine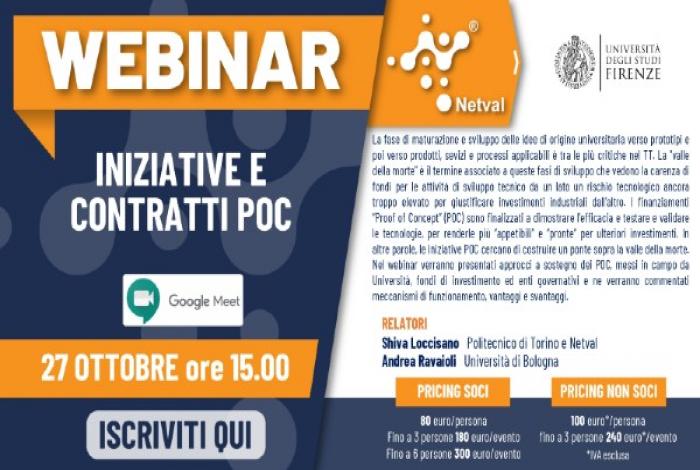 Iniziative e Contratti POC | Webinar NETVAL
Esposizione data
27 Ottobre 2021
Paragrafo
Testo
On October 27th at 15.00 there will be the Netval webinar entitled "Initiatives and POC contracts", in collaboration with the University of Florence, on the Google Meet platform. 
The phase of maturation and development of ideas of university origin towards prototypes and then towards applicable products, services and processes is among the most critical in TT.
The "valley of death" is the term associated with these stages of development that see the lack of funds for technical development activities on the one hand a technological risk still too high to justify industrial investments on the other. 
"Proof of Concept" (POC) funding is aimed at demonstrating effectiveness and testing and validating technologies, to make them more "attractive" and "ready" for further investment. 
In the webinar will be presented approaches in support of the POC, implemented by universities, investment funds and government agencies and will be commented on the mechanisms of operation, advantages and disadvantages.
Speakers
Shiva Loccisano Polytechnic of Turin and Netval
Andrea Ravaioli University of Bologna
***
Interested parties can send their questions on the subject no later than October 23 to the secretary@netval.it, indicating in the subject "Questions for webinar Netval 27 October", in order to be able to deal with issues of major interest during the live broadcast.
In full confidentiality of the sender, the questions will be grouped by subject and submitted to the rapporteur before the webinar.
More information and the programme can be found on the Netval website (https://netval.it/servizi/formazione/corsi-2020/)
 
For event registrations, please fill in the online form: https://zfrmz.eu/Nv1KRqlCYMjG08YcCbyg
The link for the link will be provided by October 27 morning.