Immagine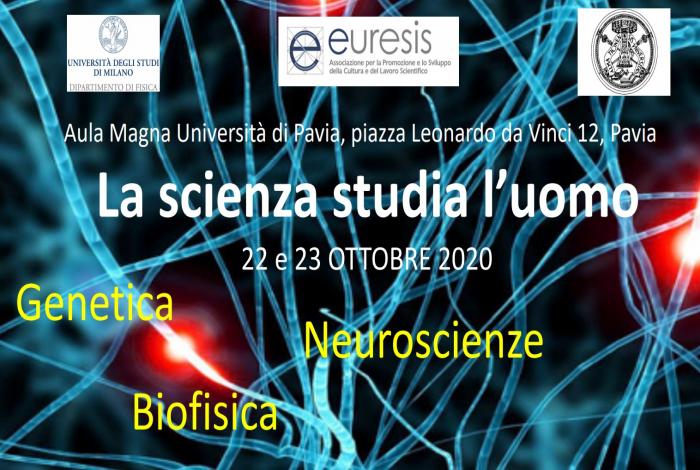 VI Simposio Interdisciplinare "Parliamo di Scienza" 22 e 23 Ottobre 2020
Esposizione data
22 Ottobre 2020
Paragrafo
Testo
PLEASE NOTE THAT THE SYMPOSIUM WILL TAKE PLACE AS PLANNED ON 22 AND 23 OCTOBER 2020 IN THE FORM OF VIDEO CONFERENCES ACCESSIBLE ONLINE VIA ZOOM PLATFORM.
Registration ends on October 15. On the following days, subscribers will be informed of the personal access link for the online connection.

Genetics and neuroscience are two disciplines that have developed and are developing with a remarkable progression, in recent years, supported for certain areas also by physics and engineering. The groups of scientists, medical, biological and even physical, who are devoting themselves to these disciplines, have increased considerably worldwide.
Genetics and neuroscience involve some of the most important aspects of man: the functioning of the brain, its role, the connection between the brain, DNA and the behavior of the subject as well as his propensity to diseases, the transmission of characters to the progeny. The conditioning that the brain and DNA impose on man essentially constrains his free choice.
It is therefore clear that these disciplines arouse great interest, and perhaps even some fear. But at the same time they can increase the understanding of certain aspects of human behavior.
Their applications then open possibilities of interventions unimaginable until now, both positive and negative          
In this symposium we try to address and discuss some aspects that make us understand where we are and what are the possibilities that are opened.
In the field of neuroscience there are not many certainties but it is also interesting to understand what are the methods and techniques that are used, while genetics is certainly more advanced and shows considerable complexity.
In the symposium, however, the most sensitive issues are dealt with, arriving at the most advanced topics, which raise questions and discussions.
Sessions open to debate between the public and the rapporteurs could 
serve to bring out themes that remain undertracked.
As in the previous Symposia, also in the 2020 Symposium the speakers are scientists with a high level of competence, directly involved in the research within the discipline of which they relate; considerable time will be devoted to discussions with them of the audience present under the coordination of a moderator.
A visit to the CNAO (National Centre for Oncological Adrotherapy) was organized in which tumors are treated through the use of diprotons and accelerated carbon ions. Worldwide there are only 5 such structures.
The Symposium has been accredited on the S.O.F.I.A., code 48720.
A certificate of attendance will be issued to those who have attended at least 70% of the presentations.
To register: https://euresis.org/parliamo-di-scienza/