Immagine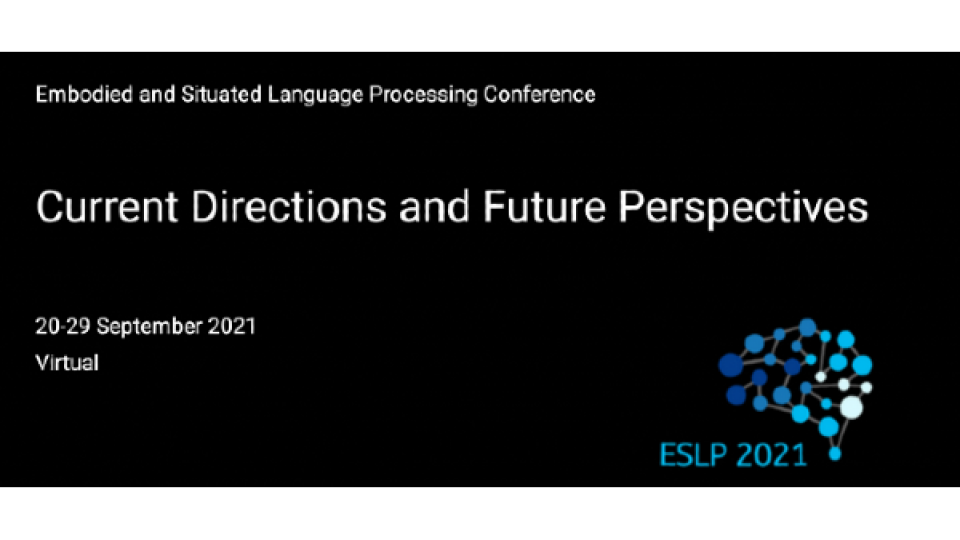 Conferenza Embodied and Situated Language Processing (ESLP) | 20-29 settembre 2021
Paragrafo
Testo
Nel 2021, in un'edizione senza precedenti, ESLP (Embodied and Situated Language Processing) prende la forma di una conferenza internazionale online suddivisa in cinque incontri dal 20 al 29 settembre per offrire a cinque famosi esperti del settore e 39 giovani ricercatori l'opportunità di presentare il proprio lavoro e di discutere insieme gli sviluppi attuali e le prospettive future della ricerca in questo campo.
Ciascun incontro sarà organizzato attorno a un nucleo tematico a partire dal quale si alterneranno presentazioni ad invito e selezionati tramite call for papers.
Nella nostra vita quotidiana, ogni giorno interagiamo con gli altri esseri umani e gli oggetti del nostro ambiente con un'incredibile varietà di azioni rese possibili dal nostro cervello e dal nostro corpo. Cosa accade quando queste azioni sono soltanto linguistiche? Quando invece che compiere azioni ne parliamo o ne scriviamo? È possibile che il modo in cui parliamo e pensiamo sia influenzato dal modo in cui ci muoviamo, o in cui abbiamo imparato a parlare e muoverci? Cosa accade quando un problema neurologico ci impedisce di utilizzare queste risorse? Un numero sempre più crescente di ricercatori, differenti per formazione e approccio teorico e sperimentale, ha iniziato sin dai primi anni duemila ad interessarsi a queste domande trovando nelle conferenze della serie "Embodied and Situated Language Processing" (ESLP, nate nel 2007) un luogo di crescita e confronto interdisciplinare.
ESLP 2021 è una conferenza online organizzata da Claudia Gianelli (ICS Maugeri & IUSS Cognitive Neuroscience Center) con il contributo di Sara Lo Presti e Carlotta Maiocchi (IUSS Pavia), Katharina Kühne, Elena Kulkova e Ghata Arya (Università di Potsdam, Germania).
I risultati di questi "stati generali" dell'embodied cognition convergeranno in un numero speciale edito da Claudia Gianelli per il Journal of Cognition con il supporto della European Society for Cognitive Psychology (ESCoP).
Per ogni informazione è possibile visitare il sito https://eslp2021.com dove è disponibile il programma completo dei cinque eventi o contattare gli organizzatori scrivendo una mail a eslp2021.organizers@gmail.com.
L'iscrizione per gli uditori sarà aperta fino al 18 settembre 2021 (link), tutti i contributi saranno in lingua inglese.
***
Claudia Gianelli (PhD), neuroscienziata cognitiva, è attualmente Principal Investigator per la linea di ricerca "Mobile Brain/Body Imaging and Motor Cognition" presso il Laboratorio di Neuroscienze Cognitive di ICS Maugeri Pavia e membro dello IUSS Cognitive Neuroscience Center (ICoN). In precedenza, è stata ricercatrice presso l'Università di Potsdam dove ha creato e gestito il Laboratorio di Neuroscienze Cognitive per il Potsdam Embodied Cognition Group (PECoG). I suoi interessi di ricerca sono nell'ambito della cognizione motoria e della rappresentazione dell'azione utilizzando una combinazione di diverse tecniche sperimentali (elettroencefalografia ad alta densità, stimolazione cerebrale, analisi del movimento e misure comportamentali) in partecipanti sani e pazienti con disturbi del movimento.