Immagine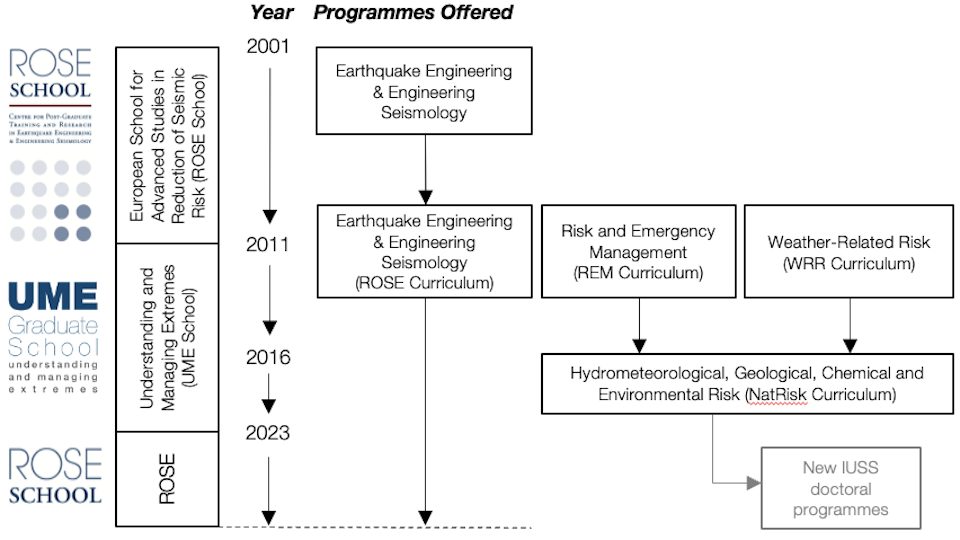 Testo
Introduction and Context
Created in 2001, the ROSE doctoral programme of the ROSE School (European School for Advanced Studies in Reduction of Seismic Risk) is focused on earthquake engineering research for mitigation of seismic risk.
In 2011, the ROSE School's scope for assessing and mitigating risk broadened to include other types of hazards, such as flood and chemical, and resulted in the ROSE doctoral programme being included as one of the training and research branches of the UME (Understanding and Managing Extremes) doctoral programme. The original ROSE School programme thus became the ROSE Curriculum and maintained its strong focus on the reduction of seismic risk alongside the new NatRisk Curriculum (Hydrometeorological, Geological, Chemical and Environmental Risk) which addressed a broad variety of subjects. The main objective was the assessment and mitigation of seismic and other risks due to natural hazards, to provide a system within which candidates could study, understand and manage the consequences of extreme events. 
With the institutional growth of IUSS Pavia, the university that runs and manages the UME Doctoral programme, the NatRisk path evolved into multiple independent and specific doctoral programmes, setting the ROSE path again as a fully independent doctoral programme from the academic year 2023/2024, just as it was until 2011.  
The academic activities of the ROSE School doctoral programme cover a wide range of subjects in the form of:
one-month intensive courses offered together with the ROSE MSc Programme;
an international Seminar held each year, around May-June; 
one-week short courses; and
occasional individual seminars by invited speakers throughout the year.
These activities have a long tradition of fostering advanced research, education and training at an international level.